Jennifer King, flutist, is a familiar and well-known musician in the Cincinnati music scene. She currently is a flutist in the Kentucky Symphony Orchestra (while also serving as their Personnel Manager) and is a piccoloist in the Richmond (IN) Symphony.
Jennifer has performed with the Cincinnati Symphony Orchestra, Cincinnati Chamber Orchestra, Blue Ash/Montgomery Symphony Orchestra, Evansville Philharmonic, Middletown Symphony, Clermont Philharmonic, the Bellevue (WA) Philharmonic, the Cincinnati Ballet Orchestra, the Rising Stars Opera orchestra, and the Miami Whitewater and Sorg opera companies. She is active as a chamber musician, performs with various small musical groups in the community, and keeps a studio of private students.
Jennifer holds a Bachelor and Master degree in music performance from the University of Cincinnati's College-Conservatory of Music. Her major teachers were Dr. Bradley Garner, George Hambrecht, Randy Bowman, Jack Wellbaum, Zart Domborian-Eby, and Ann Hambrecht.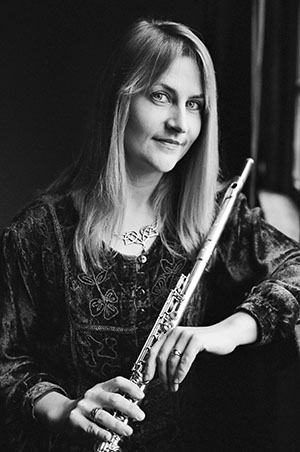 Weddings and Special Events
Jennifer is available to play for your wedding or other special event, and will be happy to put together a group of musicians to suit your taste. Popular combinations include:
- flute and classical guitar
- flute and harp
- flute, violin and cello
- two flutes and cello
- flute, violin, viola and cello
- flute and piano (or keyboard)
Private Instruction
With more than 25 years of experience in private teaching, Jennifer is a teacher who believes in an encouraging approach that values and nurtures each student's particular learning style.
Weekly lessons are available in lengths of 30 minutes, 45 minutes, or one hour.
2020-2021 Academic Year:
Accepting new and continuing students.